What's new...
6th April 2017, SCIENCE
April 2017 - The Science Magazine published news (follow the link) about the First Release of scientific article ("Greater role for Atlantic inflows on sea-ice loss in the Eurasian Basin of the Arctic Ocean", DOI: 10.1126/science.aai8204) led by Igor V. Polyakov (IARC, UAF). Among many co-authors from around the world there is also Ilona Goszczko from Observational Oceanography Laboratory.
23th March 2017, IO PAN, Sopot
IO PAN had the occasion to host dr Elena G. Arashkevich and dr Andrei G. Zatsepin from the P.P.Shirshov Institute of Oceanology, Russian Academy of Sciences. The event was organized by the Marine Physics Section of the Polish Scientific Committee on Oceanic Research.
Presentations of our guests:
Arashkevich, A. Ostrovsky, V. Solovyev, A. Nikishina, O. Podymov, A. Zatsepin, Vertical distribution of meso­zoo­plankton inferred from the net sampling and backscatter data.
A. Zatsepin, V. Baranov, S. Kuklev, A. Ostrovskii and E. Arashkevich, SIO RAS'S monitoring site in the NE Black Sea shelf-slope zone.
27th February 2017, Institute of Oceanology, Sopot
Debate "Marine Polar Research", organized by Oceanology and Polar Seas Ecology Team of the Committee on Polar Research of the Polish Academy of Sciences (Prof. Waldemar Walczowski - coordinator) and the Physics Section of the Polish Scientific Committee on Oceanic Research (Prof. Mirosława Ostrowska, chairman).
2nd-3rd March 2017. IO PAN, Sopot
The meeting of the Management Board of the European Research Infrastructure Euro-Argo ERIC was held at IO PAN, Sopot. It was a working meeting of the Euro-Argo members and observers. Current issues related to the functioning of infrastructure and plans for the future were discussed. Institute of Oceanology is the Polish representative in the Euro-Argo project and implements the program Argo Poland.
More: www.euro-argo.eu/, www.iopan.gda.pl/hydrodynamics/po/Argo/argo_pl.html.
24th February 2017, Institute of Oceanology, Sopot
Lecture of Professor Magdalena Fikus: 'I doubt, therefore I am (Reflections of the molecular biogenetics). Professor Ficus is known popularizer of science and president of the Council for Dissemination of Science, formerly working at the Institute of Biochemistry and Biophysics Polish Academy of Sciences, on the genetics and biotechnology.
21st February 2017, Institute of Oceanology, Sopot
12-17th February, Wellington, New Zealand
International Glaciological Society organised betwenn 12 and 17th of February International Cryosphere Conference that took place in Wellington, New Zealand at Victoria University. Among over 200 ice researchers from allover the world, there were two presentations by our intitute emploees, based on the GLAERE project: Katarzyna Dragańska and Jan Marcin Węslawski presented their research.
8th January 2017
IO PAN became the member of the Polish Maritime Cluster, Gdynia. Polish Maritime Cluster (PMC) is an active cluster player in the Baltic Sea Region and the EU, as well as member of the European Network of Maritime Clusters (ENMC). PMC focuses on transferring knowledge and organizing business, science and administration cooperation on a global and regionale scale. More info: klastermorski.com.pl
January 10–12 2017, Bergen, Norway
INTAROS: Integrated Arctic Observation System is a Horizon 2020 project awarded under EU call for Blue Growth and led by the Nansen Environmental and Remote Sensing Center. INTAROS is one of four projects included in EU´s efforts for increased focus on the Arctic and is an important contribution to the implementation of EU´s Arctic Strategy during the next five years. The Institute of Oceanology Polish Academy of Sciences plays an important role in the INTAROS consortium by leading activities focused on extending and improving the existing observing system in the Arctic region. INTAROS started in December 2016 and the first gathering of 110 polar scientists involved in the project took place during the kick-off meeting on January 10-12, 2017 in Bergen, Norway.
Link to the INTAROS introduction movie: https://youtu.be/4zphDKqTRNs
29 Nov - 1 Dec 2016 workshop of H2020 project "AtlantOS"
The workshop, held at the IO PAN in Sopot brought together 15 experts (and two remote participants) in biogeochemical observations and modelling from several countries around the Atlantic: Brazil,United States, Norway, Ireland, United Kingdom, Belgium, France, Germany and Poland. Comparing the targets developed during this workshop with the current observing capabilities will enable a comprehensive gap analysis (as part of AtlantOS Task 1.2) aimed at providing recommendations for designing optimized and enhanced Atlantic Ocean observing system.
More on meeting
15-16th November 2016, IO PAN, Sopot
The EurOcean, European Centre for Information on Marine Science and Technology, 16th Steering Committee Meeting was held at IO PAN. The Steering Committee, composed of the members from fourteen European institutions, set up the plan for the activity for the next year. As a part of the meeting, a half-day open session was held on Facilitating Transnational Usage of Europe´s Marine Research Infrastructure.
Porgramme, The video recording of presentations
October 18th 2016, Institute of Oceanology, Sopot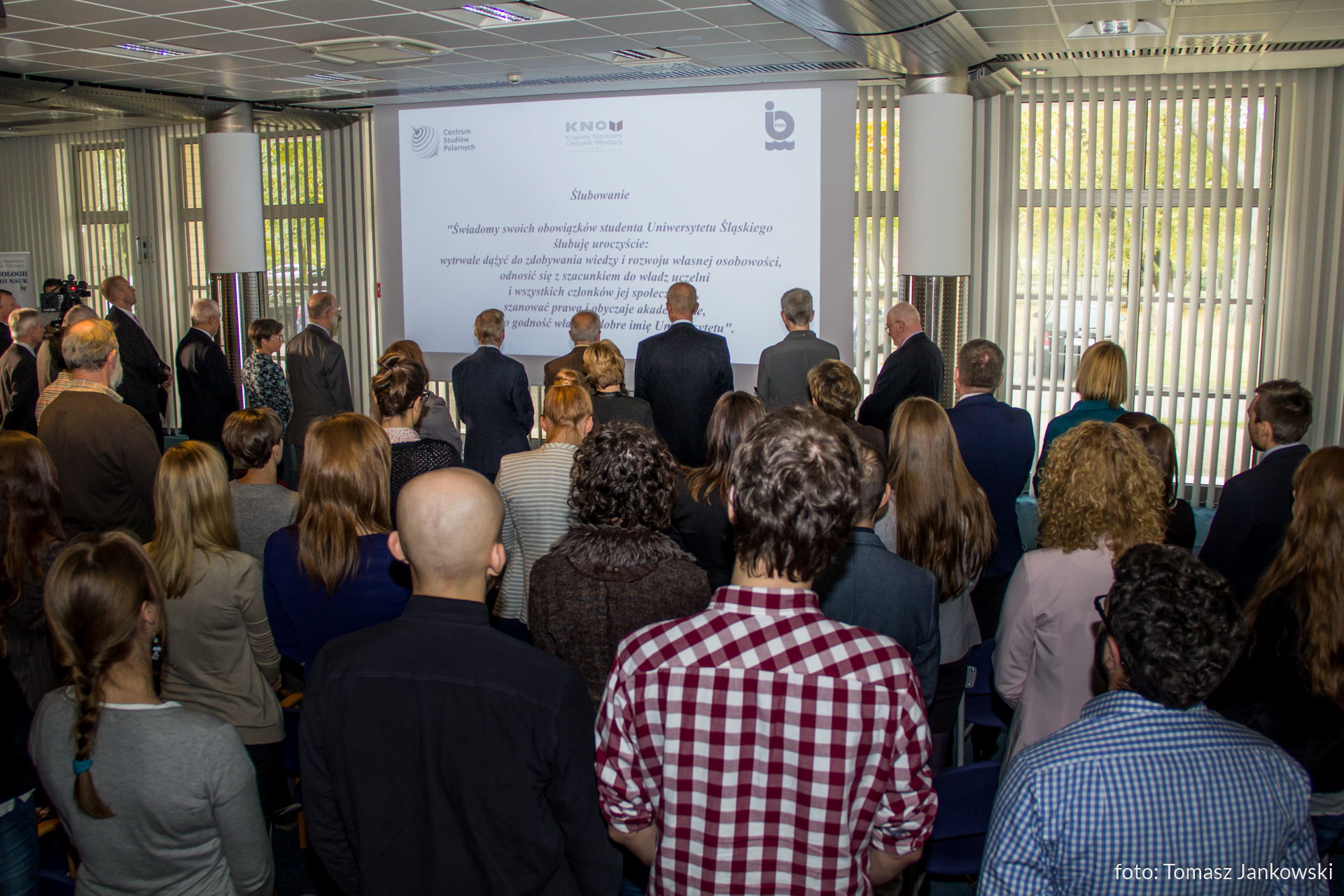 October 14th -17th, Institute of Oceanology, Sopot
"Importance of calving for mass budget of Arctic glaciers" – Sopot Scientific Seminar on Ice Calving in the Arctic (3SICA).
Programme
October 11-13 2016, IMDIS 2016, Gdańsk ECS
International Conference on Marine Data and Information Systems (IMDIS), organized by our Institute of Oceanology Polish Academy of Sciences jointly with Institute of Meteorology and Water Management, IFREMER, BODC, CSIC, MARIS, OGS (SeaDataNet partners), will be held in the ECS -Europejskie Centrum Solidarnośći Gdańsk. The Conference will present different systems for on-line access to data, meta-data and products, communication standards and adapted technology to ensure platforms interoperability. Sessions will focus on infrastructures, technologies and services for different users.
More information, also on registration: IMDIS 2016
10th October 2016
Inauguration of the Academic Year 2016/2017 of the IO PAN Postgraduation Studies - this year with 5 news students.

September 20, 2016, Institute of Oceanology, Sopot
Board Meeting of Polish Academy of Sciences in Gdansk
- visit at IO PAN in Sopot Photos




5-7 September 2016, Institute of Oceanology, Sopot, Poland
29 July 2016
29th August "AREX 2016" is completed, s/y Oceania is back after her 30th Polar Expedition.
14 July 2016, New York
Professor Tymon Zieliński appointed to the Group of experts of the Regular Process for Global Reporting and Assessment of the State of the Marine Environment The appointment took place on July 13th 2016.
10th July 2016
It is with great sadness that we learnt of the passing of our professor Czesław Druet (1926-2016), General Director of the Institute of Oceanology PAN (1976-1990), full member of the Polish Academy of Sciences, member of the scientific advisory boards of several Polish instituties of marine research, expert in physical oceanography, geophysical hydromechanics & marine coastal processes. Author and co-author of 11 scientific books and over 90 scientific papers. We lost an outstanding person.
24th June 2016, Polish-Lithuanian Academy of Sciences cooperation
In the frame of Polish-Lithuanian cooperation IO PAN had the occasion to host dr Sigitas Šulčius from Nature Research Centre in Vilnius with the lecture "How harmful are harmful algal blooms? A case study from the Curonian Lagoon". The event was organized by the Marine Chemistry Section of the Polish Scientific Committee on Oceanic Research
Abstract Publications
14th June "AREX 2016"
r/v Oceania left Gdańsk for her 30th cruise to the Arctic. photos
4th JUNE 2016, Sopot
1st - 2nd June 2016
GOOS. From June 1 to June 3, IO PAN had the pleasure of hosting the Fifth Global Ocean Observing System (GOOS) Steering Committee Meeting. The meeting was attended by a total of 37 participants representing institutions and organizations from 5 continents who met to review the state and trajectory of the ocean observing system, review the work of GOOS structures and to discuss the near-future strategy and implementation plan. Detailed information about the meeting agenda, participants and presentations can be found on the GOOS events site.
The meeting was also an opportunity for IO PAN to present its multidisciplinary observing and monitoring efforts, as presented by our scientists - Prof. Walczowski, Dr Kwaśniewski and Prof. Darecki during a mini symposium organized on June 2nd.
1st June 2016
We are proud to inform that the Institute of Oceanology Polish Academy of Science was granted HR Excellence in Research award.
more info
20th May 2016, International Sopot Youth Conference "WHERE THE WORLD IS HEADING"
The first edition of the International Conference entitled Where the World is heading was held at the Institute of Oceanology, PAN in Sopot. This conference is the continuation of the long tradition of the Sopot Youth Forum. At the end of the conference the photo exibition entitled "Day and night – light and shadow of Spitsbergen" was inaugurated. The show promoting unusual life and charm of the Far North is to be hosted outside our Institute during the whole summer season.
More info, Agenda, List of posters, Photos
17th - 19 th May 2016, Institute of Oceanology PAN , Sopot
BOOS Annual Meeting and Scientific Workshop Programme
7th May 2016, Warsaw
IO PAN was involved in the 20.Science Picnic in Warsaw. The organizers were: Polish Radio and the Copernicus Science Centre. This outdoor event aimed to promote science - this year with theme "Health" , focusing on the connections between science and our health. Photos
27th-28th April 2016, Institute of Oceanology PAN in Sopot
For two days, 27 – 28th of April 2016, IO PAN, Sopot, hosted the Spring Plenary Meeting of the European Marine Board. The Board meets twice a year; the previous meeting in Poland was held in 2009.
Based in Oostende in Belgium, the EMB represents 36 national oceanographic institutes, funding agencies and national networks of universities across 19 countries, which fund its work. The board's mission is to develop common positions on major priorities for seas and ocean research and to communicate these to European and national policy-makers.
The Meeting was also the opportunity for the Institute to present our research potential, research activities and results to European experts in the field. Note
13th April 2016, Institute of Oceanology, Sopot
5th -7th April 2016
The Annual Meeting of the ICES Working Group on Ocean Hydrography (ICES WGOH) was held on April 5-7, 2016 at the Institute of Oceanology PAN in Sopot, Poland.
23 scientists from Poland, UK, Germany, Spain, Island, Faroe Islands, Denmark, Greenland, Russia, Sweden, Norway and US participated at the meeting and presented 20 talks, including the mini-symposium with seven presentations for the open public. The main focus of the WGOH activities is on the long-term variability of ocean properties in the North Atlantic, the Nordic Seas and the European Arctic. Every year the ICES Report on Ocean Climate (IROC) is prepared and published by the WGOH